Year-End Wrap Up from Kenny Rocker, EVP, Marketing & Sales
UP: December 28, 2018
Announcement Number: CN2018-48
Categories: General Announcements
Posted Date: December 28, 2018
To Our Customers,
Before 2018 draws to a close, I'd like to take a look back at our performance for the year as well as take a look ahead at the exciting year to come.
2018 Recap
This past year saw its share of bright spots and challenges. As you know, we faced significant service challenges, including network congestion and lagging velocity. While we would have liked to have seen seamless service…
for the entire year, I am proud of the way the UP team rallied to overcome these issues and do right by our customers. I believe Unified Plan 2020 will help us avoid such challenges — and provide you more reliable service — in the future.
When you look at the numbers, we're already seeing our service improve, and that's certainly a bright spot. Since September, overall operating inventory has been reduced by 10%, car velocity is up 7% and dwell is down 10%, all of which indicate we're moving your freight faster. Beyond speed, our service is becoming more reliable, too, with on-time delivery of cars increasing by 5% since we initiated the new operating plan. These improvements have happened in the midst of volume growth, with total carloads up 3.6 percent year over year. I am encouraged by these numbers, as they demonstrate our Unified Plan 2020 efforts are already paying off.
Part of offering a more reliable service product is improving our communication with you so you know what to expect and when. We've made some excellent progress enhancing our technology to provide you with proactive notifications that allow you to plan better and that improve your shipping experience. These have included:
"Local Service Scheduled Today" notifications that let you know when you will receive service at your facility.
"Bad Order Notifications" that indicate when repaired rail cars will return to service.
"You Are Next" notifications to provide guidance on the timing of local service.
Implementation of SmartETA has also improved the accuracy of estimated time of train arrival. So far, we have seen a 15 percent improvement in train arrival times. As the technology continues to get "smarter," we anticipate these improvements to continue.
As always, we've continued to reinvest in our network. Union Pacific made significant capital investments in 2018, spending approximately $3.2 billion to improve our network and ensure you get the service you expect.
Looking Ahead to 2019
When I shift my thinking to next year, I see a bright future ahead. We have made excellent progress with Unified Plan 2020 and have accelerated the implementation schedule. We're already seeing improvements in lowering our operating inventory to reduce network congestion, increasing velocity to speed up the network, improving local service and launching more trains on time.
And finally, we'd like to let those of you who complete our relationship survey know you'll be hearing from us more often. Starting in January, we'll increase the frequency of this survey to twice per year. Having these additional checkpoints will help us keep a pulse on our customers' experiences as we implement Unified Plan 2020 and understand trends that emerge as a result of operational changes.
Thank You
We couldn't end the year without one very important message: our thanks to you, our customers, for your business and your loyalty. We value our relationship with you and we look forward to serving you in 2019. In the meantime, we wish you a very happy New Year.
Sincerely,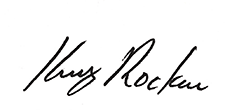 Kenny Rocker
Executive Vice President, Marketing & Sales